Fall Prevention Tips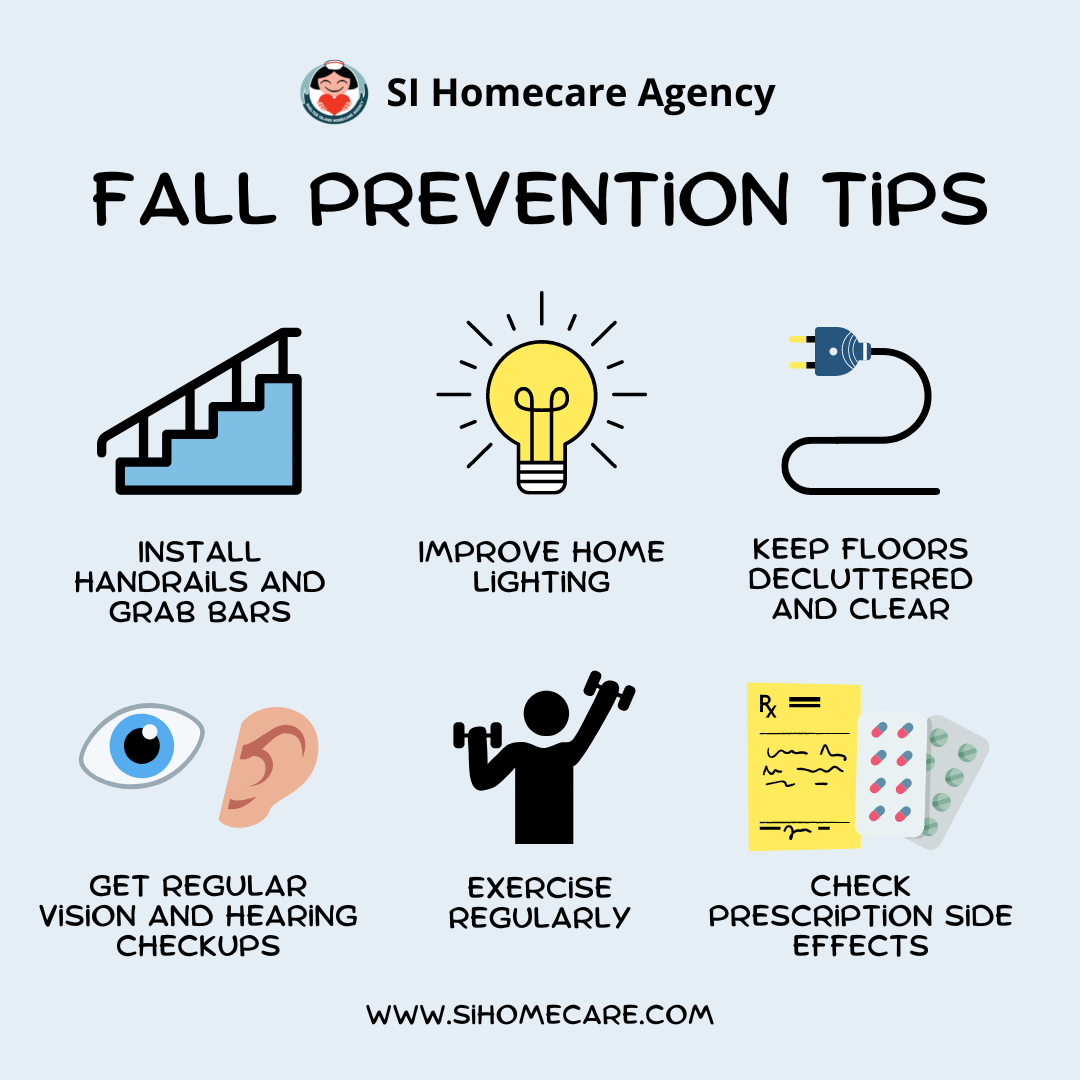 Falls are a big deal for seniors because they can cause some serious injuries and even send them to the hospital. According to the Centers for Disease Control and Prevention (CDC), falls are one of the leading causes of fatal and nonfatal injuries amongst seniors. As we age, the risk of falling increases due to various factors like decreased mobility and changes in cognition. It's incredibly important to take some preventative measures to keep your elderly loved ones safe and prevent falls in the home. Here are a few easy and practical steps to ensure fall prevention:
Install handrails and grab bars. Handrails and grab bars are crucial tools for fall prevention in the home. The most dangerous falls happen in areas where there is a lack of stability or traction, such as on stairs and in the bathroom. Installing handrails on both sides of a staircase can provide extra support for seniors as they ascend and descend the stairs. This can help them maintain their balance and prevent falls. Similarly, in the bathroom, grab bars can be installed in strategic locations like next to the toilet and in the shower to provide additional support and prevent slips and falls. Grab bars are especially important in the shower where the combination of water and soap can create a slippery surface that can be hazardous for seniors.


Improve home lighting. Having a well-lit home is another key step in fall prevention for seniors. As we age, our eyesight may begin to decline, making it more difficult to see potential hazards or obstacles in our path. This is why it's crucial to have good lighting throughout the home. One of the best ways to improve home lighting is by installing LED light bulbs. Not only do they provide brighter, more energy-efficient light, but they also last longer than traditional incandescent bulbs. LED light bulbs can be used in a variety of fixtures and lamps, and they come in a range of brightness levels to suit different needs. It's also important to consider the placement of lighting in the home. For example, lighting should be bright and even in areas like the kitchen and hallway, where seniors may be more active. Nightlights can also be a good idea in areas like the bedroom and bathroom, where seniors may need to navigate in the dark.


Keep floors decluttered and clear. Keeping floors decluttered and clear is another important aspect of fall prevention for seniors. The ability to react to potential tripping risks becomes more challenging as we get older because our reflexes get slower. As a result, it's imperative to make sure floors are clear of anything that might cause a fall. One of the most common causes of tripping is wires or extension outlets on the floor. These can be particularly hazardous if they are in high-traffic areas of the home, such as the living room or hallway. To reduce the risk of tripping, it's important to properly manage cables and wires. This can be done by using cable ties, cord covers, or cable management clips to keep wires neatly organized and out of the way. In addition to managing cables and wires, it's important to keep walkways and pathways clear of any obstacles. This can include items such as loose rugs or furniture that may impede movement or cause a trip. Seniors may also benefit from rearranging furniture or removing unnecessary items from their home to create more open and unobstructed spaces.


Get regular vision and hearing checkups. Good vision is essential in navigating through the environment safely. Brighter lights may not be enough if one's vision is poor. Therefore, seniors should schedule regular eye exams to ensure that their vision is optimal. Similarly, hearing loss can significantly impact balance and increase the risk of falls. Therefore, seniors should also schedule regular hearing checkups to identify any issues early on. These checkups can help seniors maintain their independence by identifying potential issues before they become problematic. Additionally, early detection and treatment of vision and hearing problems can help seniors better enjoy daily activities and maintain social connections.


Exercise regularly. Regular exercise is essential to maintaining overall physical health, especially as we age. It helps keep our muscles strong and our joints flexible, which are crucial in supporting our weight and preventing falls. Exercises that focus on improving balance and coordination can be especially beneficial for seniors. Engaging in activities such as walking, swimming, or tai chi can help improve overall strength, flexibility, and balance.
Check prescription side effects. Certain prescription drugs can cause drowsiness, dizziness, or affect vision, which can significantly increase the risk of falls. Therefore, seniors should regularly review their medications with their healthcare providers and ensure they are aware of any potential side effects. They should also take their medications as prescribed and avoid altering doses or stopping medications without consulting their healthcare provider. If a medication is causing unwanted side effects, seniors should notify their healthcare provider immediately. Additionally, seniors should inform their healthcare provider of any over-the-counter medications, herbal supplements, or vitamins they are taking to ensure there are no harmful interactions with their prescription drugs. Taking these precautions can help seniors stay safe and reduce the risk of falls.